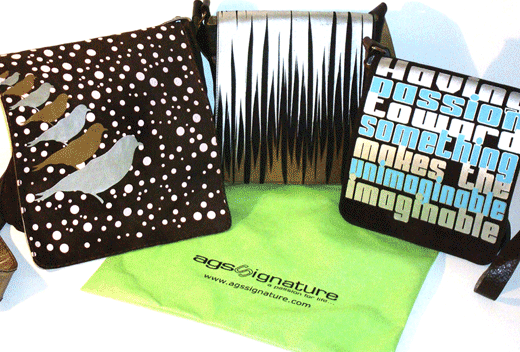 Leather Handbags:


At agsSignature you will find a a new concept for luxury designer handbags, our unique leather handbags are a must
have. 100% Colombian leather guaranteed in all exteriors (No imitations). Dyed Leather. Combination of different kind of cow leather. Exclusive designs made of high quality materials. Interiors finished in silk & fabric.

We select the best fabrics and leathers to provided a chic and elegant purse. All of our products are handmade from scratch; one at a time, using various techniques including hand screen-printing.

We love to heard from you send us an email with your information and we will add your name to our contact list. You can received our monthly Newsletter, coupons sales, new arrivals, and much more.
Please feel free to drop us a line to share your thoughts on the site, all comments welcomed.

Thanks for your interest in agsSignature. We will be adding extra features over the next few months, so come back regularly.